Last Saturday's (25 January) maiden test flight of the new Boeing B777X will provide another topical subject to be discussed at next month's Aviation Club lunch in London, with the man in one of the industry's currently most controversial jobs as guest speaker. (see also in the issue Further MAX delay to summer confirmed plus AND FINALLY.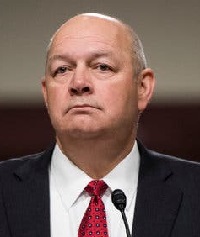 Steve Dickson: At the heart of controversy.Steve Dickson, administrator of the US Federal Aviation Administration (FAA), is at the heart of the B737 MAX controversy and is expected to give some indication of when the aircraft will be allowed to return to service.
He now also has the pending arrival of the B777X, the world's largest twin-engine passenger jet, to deal with as well as the wider issue of safety regulatory issues post Brexit.
As a former senior vice-president of flight operations for Delta Air Lines and a strong advocate for commercial aviation safety and improvements to the US national airspace system, Dickson is particularly well qualified to carry out his new job.
He was sworn in as FAA administrator last August after being confirmed for a five-year term by the US Senate.
Bookings are now open for the Aviation Club gathering, which is on 6 February at the new venue at the Royal Automobile Club in Pall Mall. It is also a curtain-raiser for the organisation's 30th anniversary this year.
Article courtesy BTNews: BTN's full edition is at www.btnews.co.uk.