As American Airlines again delays the date for bringing its Boeing B737 MAX fleet into service, next month's Aviation Club lunch will be highly topical with the head of America's Federal Aviation Administration (FAA), Steve Dickson, as guest speaker.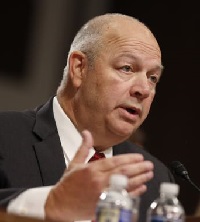 Steve Dickson: A strong advocate for aviation safety.Bookings are now open for the 6 February event, the club's first lunch at its new venue at the Royal Automobile Club building in Pall Mall London, and a curtain-raiser for the organisation's 30th anniversary this year.
As administrator of the FAA, Dickson leads the US equivalent of the UK's CAA and will be speaking about the MAX and the wider issue of safety regulatory issues post Brexit.
He was sworn in as FAA administrator last August after being confirmed for a five-year term by the US Senate and having recently retired as senior VP of flight operations for Delta Air Lines. He is known as a strong advocate for commercial aviation safety and improvements to the US national airspace system.
■ American Airlines said last week that "based on latest guidance", it expected the resumption of scheduled commercial service on its MAX fleet would be on 4 June this year.
The airline said once the aircraft was certified, it would operate flights for staff members and invited guests before the MAX was entered into commercial service.
Article courtesy of BTNews – https://www.btnews.co.uk/article/15581