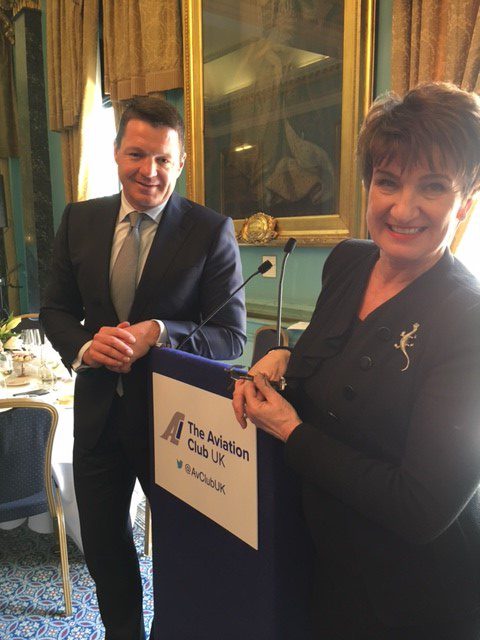 Pieter Elbers addressed Aviation Club UK members and guests at their Club luncheon on Wednesday 5 April.  Elbers confirmed the importance of the UK market to KLM quoting the following key messages:
'The UK is KLM's single most important market out of the Netherlands. In three years' time we have increased the number of seats to the UK by 20%. Last year, we opened three new UK destinations (Inverness, Southampton and London City). This is proof of our commitment to the UK and our faith in the further development of this market.
'Currently, with 17 destinations and 71 frequencies a day we welcome on board as many as 4.2 million passengers per year. This means almost 1 out of 6 KLM passengers flying through Schiphol enter via one of our UK routes. With our network we offer services to the world from more cities in the UK than any other airline, we are UK's regional "home carrier"!  
'What sets us apart from the competition? Most of all, we want to offer our passengers a memorable experience. KLM will not be the most luxurious, nor have the lowest cost, but instead we have made a choice for customer intimacy. This is in our DNA.
'Digital enables large scale customer intimacy. We have now rolled out over 14.000 iPads for frontline staff. This will enable them to personalize their service to customers and to solve problems more directly.  Ever since the ash cloud in 2009 when we evolved our social media response KLM has been a frontrunner in digital and social media. Since then a lot has happened. The world around us evolved. And so did we.
'With 100,000 incoming messages a week that are answered within the hour, we still excel in social media. But also on digital we have a good track record:
–      Over 130 million visits per year on klm.com
–      Selling 1 out of 3 tickets via our website
–      Almost half of all online visits are on mobile
–      70% online check-ins
'Recently Citibank published a thorough and interesting update on digitization in the airline industry, where KLM was ranked as the number one digital scoring European airline. At KLM with over 18 million followers we have more social media presence than IAG Group and Lufthansa Group combined. And we continue to invest in our leading digital position.
'We believe we should be where our customers are.  I can honestly say that we at KLM feel at home in the UK and we wish to make UK customers feel at home with KLM.
To view the Bloomberg news article CLICK HERE