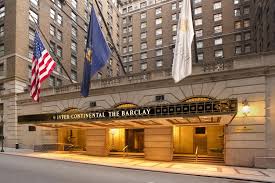 The Aviation Club UK has partnered with Airline Economics to host its second international event of 2019 with a reception on Wednesday 16 October at the Intercontinental Barclay Hotel in New York.
Vist BTNews for this story and the latest industry news
The reception, supported by Embraer, is programmed around the Airline Economics Growth Frontiers New York conference and will host leading aviation sector guests.
Embraer CEO John Slattery will attend as the club's guest of honour and will give a short address.
The club launched the international events programme with a Dublin dinner in January, reflecting the global reach of the aviation industry and to help members to broaden international business contacts and attract new members.
There are three gatherings each year, all supported by Airline Economics and sponsored by industry – the Dublin dinner in January, the New York reception in October, and a Hong Kong dinner in November.
The international events are free to members, who will be notified of details through club mailings.
Back in the UK, the club is preparing for its next lunch on 7 November at the Institute of Directors in Pall Mall, London, with United Airlines CEO Oscar Munoz as chief guest, while the pre-Christmas gathering on 5 December will be addressed by Rolls-Royce Plc CEO Warren East.