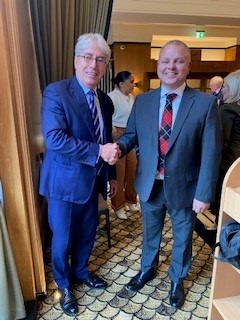 Held at a The Royal Over-Seas League, St James's, a new venue that went down very well with all who attended, Loganair boss Jonathan Hinkles spoke of the demise of Flybe  Committee member TNU's Malcolm Ginsberg writes. That airline had seven slot pairs at Heathrow which could now be available,  subject to a CAA appeal by its administrators.
"We were the first to apply," he said. "Nobody else had applied before us at that point."
Hinkles would like to move his Londonderry- Stansted operation into Heathow.  Loganair already has a single Isle of Man service to the UK's major hub.  Newquay is the only Heathrow Flybe slot destination not covered by other airlines.
Loganair is also on the market, following a decision by sole owners Stephen and Peter Bond to sell the Glasgow-based company. Stephen Bond is now 72 and has decided to step back from the airline's day-to-day business. "That process of finding new owners is well on track, and we hope to have news on that later this year," Hinkles said.
For the financial year ended March 2022, Loganair posted a £7.2 million net profit on revenues of £161.6 million, compared with a net loss of £5 million in the previous year.