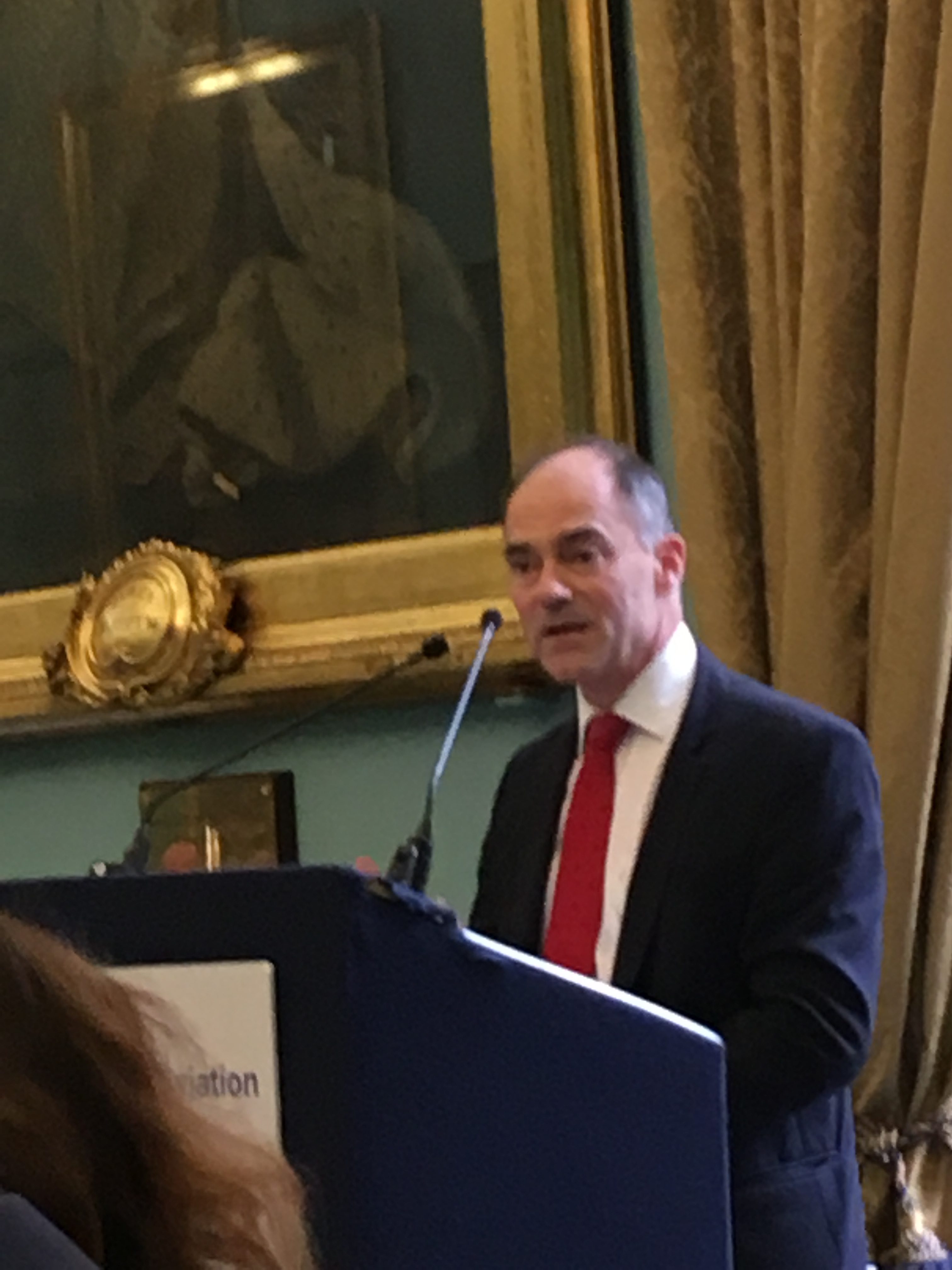 Speaking to a capacity lunch today at the Institute of Directors Karl Brünjes, Chairman of the Aviation Club of the United Kingdom, announced that the Club was literally moving down the road to a new home at the RAC. Guest of Honour was Warren East, CEO of Rolls-Royce.
"2020 marks the 30th anniversary of the Club", said Mr Brünjes. "It has more than fulfilled the objectives of its founder sponsors, which incidentally included Rolls-Royce, in creating an informal high-level forum for commercial aviation here in London. From all over the world the great and good in air travel have spoken over the last three decades. Who can forget the occasion on 6 July 2005 when Geoff Dixon, then CEO of Qantas, was handed a piece of paper and announced that the United Kingdom had won the bid to host the 2012 Olympics. After lunch it was off to Trafalgar Square to celebrate with the crowds.
"Following a long debate by the committee it was decided that the Club had outgrown our current home. A detailed search found the Royal Automobile Club most welcoming and I am pleased to say our first guest will be Steve Dickson, FAA Administrator on 6 February. Hopefully he will be able to talk positively about the Boeing MAX".
Mr Brünjes said that 2019 had been a particularly successful year for the Club with the expansion of the YAP (Young Aviation Professional) programme, designed to introduce graduates into the industry, and a series of international events supported by Airline Economics, a subscriber only magazine, with happenings in Dublin, Hong Kong and most recently in New York. He announced a quarterly 'Forum Events' programme of early evening, informal events with fireside discussions and debates on topical industry issues.
Looking back over the year he noted the speaker list was of the very high standard that members were accustomed to. "We started out with Robert Sinclair of London City Airport; followed by Johan Lungren of EasyJet; Robin Hayes of JetBlue, who announced London as the airline's 2022 target; Paulo Mirpuri, who must be the only airline chief having been checked out on the A380; Paul Griffiths in charge of Dubai Airport; and most recently Oscar Munoz of United Airlines complete with a heart transplant. Maybe running an airline is not that aggravating".
"Looking forward guest speakers after Mr Dickson, it is Ms Wrenelle Stander, of South African airline Comair on 11 March, followed by John Holland-Kaye, CEO of Heathrow Airport on 23 April".
CLICK HERE for full article from BTNews