Last week saw NATS CEO Martin Rolfe as guest of honour at the first (virtual) Aviation Club lunch of the year. He last spoke in 2016.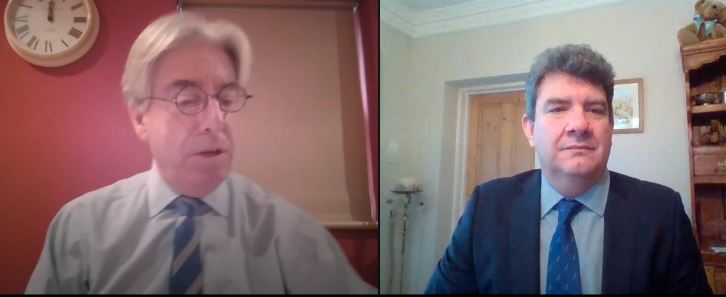 Aviation Club chairman Karl Brünjes (left) and Martin Rolfe. CEO NATS.Opening his address he cited the analytics company Cirium saying that the pandemic wiped out more than 20 years of global aviation growth, putting traffic levels back to where they were in 1999. Last year more than 40 airlines completely ceased or suspended operations.
He noted that closer to home Eurocontrol has just published a report totting up a total of more than €56bn of aviation losses across Europe in 2020, with 1.7bn fewer passengers contributing to plummeting load factors, as well as 6m fewer flights than in 2019. By the end of the year 51% of European airframes were grounded and more than 190,000 people across Europe had lost their jobs in the industry.
Martin was emphatic. "I need no crystal ball to know that it's going to be a long haul to whatever a 'new' normal may look like".
Two items stood out: Remote tower operations, where he confirmed that London City Airport was expecting CAA approval this month, and the strange situation regarding the early destination arrival of scheduled aircraft.
"During lockdown we have had the bizarre experience of aircraft leaving their point of origin bang on time and racing to their destination in the hope of being first in the queue, and having to circle for 20 minutes burning precious fuel because they're too early for their landing slot – or because the airport hasn't even opened yet. We've already spoken with a number of airlines who have been staggered to learn of the fuel they could be saving, and adjusted their departure times accordingly.
Visit the Aviation Club "Speakers" website for a video of the speech.
http://www.aviationclub.org.uk