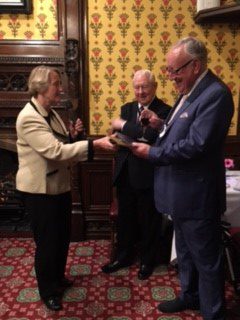 On the eve of the publication of the Government's consultation to kickstart the new UK Aviation Strategy, guests from across the aviation industry, parliamentarians and Aviation Club UK members attended the Aviation Club UK's annual reception at the House of Lords, hosted by Lord Clarke of Hampstead CBE, British trade unionist and Labour peer.
Jane Middleton, Immediate past chairman and chair of Airlines UK, thanked and introduced host Lord Clarke.  Special guest Bob 'the cat' Bevan MBE, after dinner speaker, Crystal Palace supporter and raconteur entertained the guests with his sparkling wit and jokes..
Heathrow Airport sponsored the event and Flybe Chief Executive Christine Ourmieres-Widener donated flights.  
Amongst some 130 guests were Geraldine Wilmot of Boeing, who flew in from Seattle specifically to attend the Reception, Orbis UK Chief Executive, Rebecca Cronin and Paul Morris, Senior Manager, Aircraft Field Line Maintenance, FedEx (who donated the current aircraft to Orbis) along with Charity Partnership Manager, Kathryn Sweet. They were delighted to join members at this special event and enjoyed to opportunity to network with guests, including long term Orbis supporter Irena Badelska.